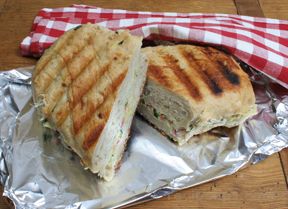 Directions
Empty tuna into small bowl. Mix together with mayonnaise, radishes, and pickles. Set aside.
In other small bowl, mix together chopped cucumber, carrots, parsley, onion, and lemon pepper. Set aside.
Butter outside of bread, both top and bottom halves.
On bottom half of bread, place 1/2 the slices of Swiss cheese, then tuna mixture, then cucumber mixture, then rest of the Swiss cheese.
Put top half on sandwich. Wrap in large sheet of aluminum foil, sealing.
Place directly on preheated grill over medium heat.
Set a brick or heavy heatproof object on top of sandwich while cooking.
Turn sandwich over after 5-7 minutes and place brick on top again, grill another 5 minutes or until nicely browned and cheese is melted.
Serve warm.
Prep Time: 15 minutes
Cook Time: 10 minutes
Container: aluminum foil, 2 small mixing bowls, grill
Servings: 6


Ingredients
-
3 radishes - chopped
-
1/4 cup pickles - chopped (sweet or zesty bread & butter)
-
1/4 cup mayonnaise - fat free
-
can tuna - packed in water, drained
-
1/2 cup cucumber - unpeeled, seeded, chopped
-
1/2 cup carrot - shredded
-
1 tablespoon fresh parsley - chopped
-
1 tablespoon onion - chopped
-
1 teaspoon lemon pepper
-
1 loaf Ciabatta bread - cut in half horizontally
-
8 ounces Swiss cheese - sliced