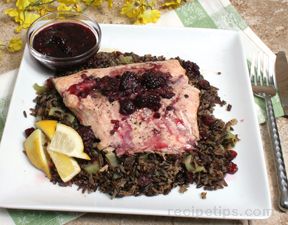 Directions
Cook wild rice according to package directions.
Heat 1 tablespoon olive oil over medium heat. Add sliced celery, sauteing until crisp tender, 3-5 minutes.
Add 2 cups cooked wild rice and the craisins. Heat through.
Salt and pepper to taste.
Place on serving platter.
Heat grill to medium.
Season salmon with a little olive oil, salt and pepper.
Place on grill, skin side down. Close cover and grill until no longer dark pink in center, about 5-8 minutes, depending on thickness. Do not turn.
When done, remove from grill and place on top of bed of whild rice.
In small saucepan, stir together blackberries, honey, 2 tablespoons water and lemon zest. Heat on medium until heated through and is sauce consistency, about 5 minutes.
Pour some sauce over salmon, serve remaining sauce on side.
Prep Time: 15 minutes
Cook Time: 45 minutes
Container: grill, small saucepan, pot to cook rice, medium skillet
Servings: 4
Serving Size: 1


Ingredients
-
24 ounces salmon fillets - 4 small or 1 large, skin on
-
2 cups wild rice - cooked
-
2 stalks celery - sliced
-
1 cup craisins
-
salt and pepper - to taste
-
2 tablespoons olive oil - divided
-
1 cup blackberries or raspberries
-
2 tablespoons honey
-
1/2 lemon - zested