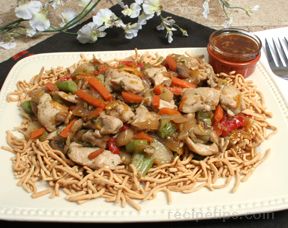 Directions
Heat oil in large skillet over medium high heat.
Add cut up chicken tenders. Sauté until lightly browned (3-5 minutes), stirring occasionally.
Add minced garlic and 2 tablespoons soy sauce. Cook another 3-4 minutes.
Add frozen vegetables or fresh cut up vegetables. Cook 5-10 minutes or until vegetables are crisp tender.
In small saucepan, combine marmalade, oil, soy sauce, lime juice, minced ginger, and pepper. Whisk together. Heat through.
Place chow mein noodles on bottom of serving platter. Top with stir fried chicken and vegetables and pour heated sauce over all.
Prep Time: 15 minutes
Cook Time: 10 minutes
Container: large skillet or wok, small sauce pan
Servings: 4
Serving Size: 1 cup


Ingredients
-
1 pound boneless, skinless, chicken tenders - cut up in bite size pieces
-
2 tablespoons olive oil
-
1 clove garlic - minced
-
2 tablespoons soy sauce
-
package frozen stir fry vegetables or any combination of fresh vegetables, sliced (about 3 cups)
-
SAUCE
-
2/3 cup orange marmalade
-
1 tablespoon olive oil
-
1 tablespoon soy sauce
-
2 teaspoons lime juice
-
3/4 teaspoon ginger - minced
-
1/2 teaspoon cayenne pepper
-
1 package chow mein noodles