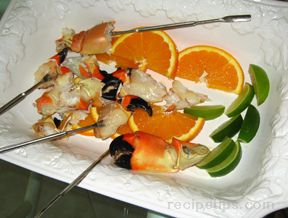 Directions
Bring water to a boil in a steamer pot and then place the crab claws in the steamer basket.
Allow them to steam for about 6 or 9 minutes. Do not overcook because it could cause the meat to stick to the shell, making it hard to remove the meat from the claws.
When cooking, you are basically just heating up the crab claws because they are generally precooked when you buy them. After 9 or 10 minutes remove the stone crab from the steamer, crack the claws open and serve immediately.
Sprinkle lightly with lime juice and serve with melted garlic butter (see below) for dipping.
Garlic Butter: Blend the minced garlic in with the softened butter using a fork. Melt the blended butter before serving.
Prep Time: 15 minutes
Cook Time: 15 minutes
Container: Steamer Pot
Servings: 2


Ingredients
-
3 pounds stone crab claws
-
1 lime
-
6 tablespoons butter
-
1 clove garlic - minced