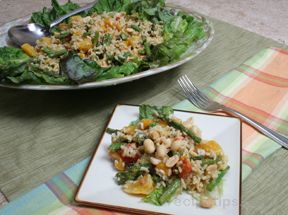 Directions
Heat the grill to medium.
Lay the asparagus and the peppers (skin side up) on a baking sheet and sprinkle with olive oil; then lay the asparagus spears and peppers (skin side down) on the heated grill.
Cover and grill the asparagus until lightly browned and crisp tender. Grill the peppers until the skin is blackened all over, about 7 minutes.
Remove the asparagus to a cutting board and place the peppers in a paper bag. Let cool, then remove the skins.
Cut the asparagus and the peppers into bite-size pieces.
In food processor or blender, combine the olive oil, orange juice, garlic, ginger, orange zest, honey, and wasabi powder. Process until smooth. Set the dressing aside.
Cook the rice according to the package directions. Add the salt to the rice.
Transfer the cooked rice to large bowl.
Pour the dressing over hot rice and stir occasionally until the rice is cool.
Add the asparagus, pepper, and orange pieces. Stir to combine with the other ingredients.
Line a serving platter with red leaf lettuce.
Spoon the rice salad in center. Top with nuts if desired.
You may need to season the salad with salt. Serve the salad at room temperature.
If the salad is made the night before, you may need to add a one or two tablespoons of orange juice if it seems too dry.
Prep Time: 20 minutes
Cook Time: 15 minutes
Container: large serving bowl, small sauté pan, grill
Servings: 4
Serving Size: cup


Ingredients
-
1 pound asparagus - trimmed
-
1/4 cup olive oil
-
1 yellow pepper - seeded and cut in half
-
1 red pepper - seeded and cut in half
-
1/4 cup orange juice - plus more if needed
-
1 clove garlic - chopped
-
2 tablespoons fresh ginger
-
2 tablespoons honey
-
1/2 orange - the zest only
-
1 orange - segmented and cut up
-
1/4 teaspoon wasabi powder
-
1 cup dry brown rice
-
3/4 teaspoon salt
-
1/3 cup mixed nuts, optional