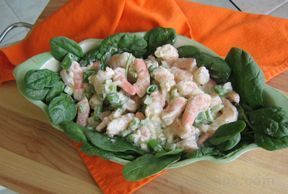 Directions
Combine the shrimp, celery, onion, and pea pods in a serving bowl and set aside.
In a small bowl combine the mayo, lemon juice, and seasonings. Stir until well blended.
Add the mayo mixture to the other ingredients and stir until evenly coated.
Cover and refrigerate for about 1 hour before serving.
Serve over salad greens.
Prep Time: 1 hour
Container: small mixing bowl, serving bowl
Servings: 4


Ingredients
-
4 ounces greens
-
1 pound cooked shrimp - cut into bite size pieces
-
1/2 cup chopped celery - chopped fine
-
1/4 cup onion - chopped fine
-
1/2 cup pea pods, chopped (optional)
-
1/4 cup mayonnaise
-
1 tablespoon fresh lemon juice
-
1/2 teaspoon Old Bay seasoning, or to taste
-
1/8 teaspoon seasoned pepper