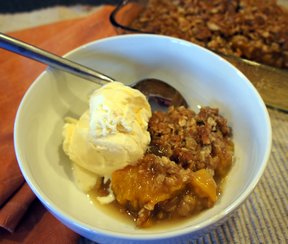 Directions
Place fruit an sugar in a baking dish; stir to combine.

For topping, combine oats, brown sugar and flour in a bowl. Cut in butter until mixture resembles course crumbs. Add nuts, if desired. Sprinkle topping over fruit.

Bake in a 375° oven for 30-35 minutes or until fruit is tender and topping is golden.

Serve with ice cream!
Prep Time: 15 minutes
Cook Time: 35 minutes
Servings: 8


Ingredients
-
5 cups peaches, peeled, sliced
-
2 tablespoons sugar
-
1 cup oatmeal
-
1 cup brown sugar
-
1/2 cup flour
-
1/2 cup butter
-
1/2 cup nuts, chopped (optional)