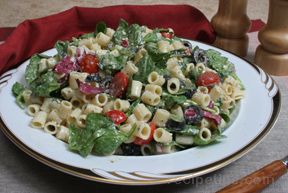 Directions
Cook pasta according to package directions, drain, and cool.
In food processor combine 1/2 cup feta cheese, yogurt, oregano, garlic clove, vinegar and oil. Process until smooth.
Pour in small bowl, add red onion. Cover and refrigerate for 30 minutes.
In large serving bowl, toss together spinach and pasta.
Add in rest of feta, cucumber, tomatoes, and olives.
Pour dressing mixture over all and toss to combine.
You may not need to use all of the dressing.
Season with salt and pepper.
Prep Time: 20 minutes
Cook Time: 10 minutes
Container: small mixing bowl, large serving bowl
Servings: 4
Serving Size: 1 cup


Ingredients
-
DRESSING
-
1 cup feta cheese - Mediterranean Style, divided, crumbled
-
3 tablespoons yogurt - plain
-
1 teaspoon oregano - dried
-
1 clove garlic
-
3 tablespoons red wine vinegar
-
5 tablespoons olive oil
-
1/4 cup red onion - diced
-
SALAD
-
1 cucumber - unpeeled, sliced thin
-
1 pint cherry tomatoes - cut in half
-
can black olives - pitted
-
6 cups fresh spinach and radicchio blend
-
8 ounces calaveti pasta or favorite small tubular pasta
-
salt and pepper - to taste