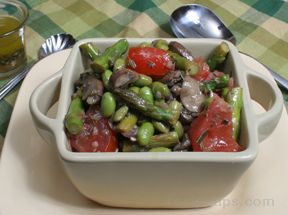 Directions
Vinaigrette
Combine in jar with a tight lid and shake well.
Vegetables
Heat olive oil over medium heat.
Add red onion and the shallot. Sauté for 5 minutes.
Add mushrooms and chopped garlic. Continue stirring and sautéing for another 5-8 minutes until mushrooms are golden brown.
Add asparagus, rosemary, and lemon juice. Sauté another 5 minutes, just until asparagus is crisp tender.
Add in edamame. Sauté 2 more minutes.
Turn off heat, add chopped tomatoes, salt and pepper. Pour vinaigrette over vegetables, note you may not need to use all of it.
Serve warm with Herb Grilled Chicken.
Prep Time: 10 minutes
Cook Time: 15 minutes
Container: large sauté pan
Servings: 4
Serving Size: 1 cup


Ingredients
-
2 tablespoons olive oil
-
1/2 cup red onion - chopped
-
1 shallot - chopped
-
1 clove garlic - minced
-
8 ounces baby bella mushrooms - sliced
-
1 bunch asparagus - (8 to 12 spears) chopped into 1-inch pieces
-
1 cup edamame - frozen or fresh
-
1 tablespoon fresh rosemary - chopped
-
1/2 lemon - juiced
-
1 tomato - chopped, or 1 cup grape tomatoes
-
salt and pepper - to taste
-
VINAIGRETTE
-
6 tablespoons olive oil
-
3 tablespoons white wine vinegar
-
1 tablespoon fresh rosemary - chopped
-
3 teaspoons fresh lemon thyme - chopped
-
1/2 teaspoon salt
-
1/2 teaspoon pepper