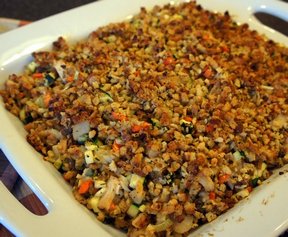 Directions
Preheat oven to 350 degrees. Spray inside of a 2-1/2 quart casserole dish or 8x12 Pyrex dish with cooking spray; set aside.

In a large mixing bowl, mix together stuffing mix and melted margarine; measure 1/2 cup of stuffing mix and set aside for topping.

Add the rest of the ingredients to the remaining stuffing mix, stirring and mixing well.

Pour entire mixture into prepared dish. Sprinkle reserved stuffing mix over casserole. Bake, uncovered, for about 45 minutes or until golden brown and bubbly.
Prep Time: 10 minutes
Cook Time: 45 minutes
Servings: 6


Ingredients
-
1 package stuffing mix, chicken or turkey-flavored (6 oz pkg)
-
1/4 cup butter, melted
-
2 cups chicken breast, diced
-
2 each zucchini, washed, unpeeled, diced
-
2 each carrots, peeled, diced
-
1 stalk celery, diced
-
1 each onion, finely diced
-
1 can water chestnuts, sliced, drained
-
1 can cream of chicken soup
-
1/2 cup sour cream
-
1 tablespoon oyster sauce
-
2 teaspoons fresh ginger, minced