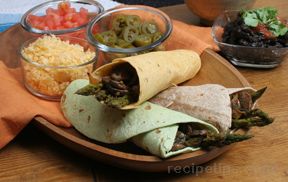 Directions
Preheat a grill to medium.
Spray the grill pan or stir fry rack with a non-stick cooking spray.
Place on grill to heat it up.
Place all of the vegetables except the red pepper into a shallow dish.
Pour the chipotle dressing over the vegetables and allow them to marinate for 20-30 minutes. Toss to combine.
Cut red pepper in half, remove the seeds and sprinkle with olive oil. Place on the grill skin side down.
Pour the vegetables with the dressing into the grill pan.
Close the lid and allow them to saute for approximately 5 minutes, open lid and stir the vegetables and continue to grill until crisp tender, approximately 10 more minutes. Remove from the grill.
When the red pepper skin is charred, remove it from the grill to a cutting board to allow to cool. Peel away the burned outer skin and then slice the roasted pepper into julienne strips.
Place the tortillas on the grill just to heat through, approximately 30 seconds on each side.
Place a small amount of the vegetables with 4 spears of asparagus and the julienned red peppers onto a warmed tortilla.
Roll them up and enjoy.
** To make the chipotle dressing, mix all dressing ingredients together in a medium mixing bowl. Whisk until competely combined. To make the chipotle puree, place on can of chipotle peppers in adobo sauce in a blender of food processor. Pulse until pureed. Refrigerate any unused portions for up to one week or freeze for later use.
Prep Time: 10 minutes
Cook Time: 15 minutes
Container: shallow dish, grill pan
Servings: 4


Ingredients
-
8 ounces baby bella mushrooms - sliced
-
1 onion - cut into rings
-
1 bunch asparagus - trimmed
-
1 red bell pepper
-
olive oil to sprinkle over red pepper
-
grated cheese, sour cream, salsa, etc for condiments
-
CHIPOTLE DRESSING:
-
1 tablespoon yellow onion - diced
-
2 cloves garlic - minced
-
2 tablespoons Dijon mustard
-
1/4 teaspoon cumin
-
1/4 cup tomato - diced
-
2 tablespoons cilantro - chopped
-
2/3 cup rice vinegar
-
pepper - to taste
-
1 teaspoon salt
-
2 tablespoons honey
-
1/2 cup olive oil
-
2 tablespoons chipotle puree - see instructions