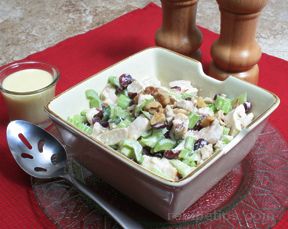 Directions
Blend egg yolks, vinegar, sugar, mustard and salt in a food processor.
With the processor running, slowly pour oil in a thin stream into the machine through the top spout.
Refrigerate this mixture.
Grill the chicken until no longer pink in the center, approximately 10 minutes. Remove from the grill, cool slightly and cut into bite sized pieces.
Place the chicken, craisins and celery in a serving bowl.
Add the dressing and toss to coat.
Cover and refrigerate 8-10 hours.
Just before serving, add the pecans and toss gently,
Serve over lettuce or on croissants.
*NOTE: when a recipe requires "raw" eggs as an ingredient, there is always a concern that potentially harmful bacteria may have invaded the egg, which may cause illness in humans. Although the probability is low (1 in 20,000 eggs), the concern does exist; therefore, if you are concerned about using raw eggs, consider using an egg substitute, such as pasteurized whole eggs, egg white substitutes, or meringue powder, to reduce the potential of bacterial contamination.
Prep Time: 20 minutes
Cook Time: 10 minutes
Container: medium mixing bowl, food processor
Servings: 4


Ingredients
-
DRESSING:
-
2 egg yolks
-
2 tablespoons apple cider vinegar
-
2 tablespoons sugar
-
1 teaspoon Dijon mustard
-
1/4 teaspoon salt
-
3/4 cup olive oil or vegetable oil
-
SALAD:
-
2 chicken breasts - boneless, skinless
-
3/4 cup craisins
-
3 stalks celery - diced
-
1 cup pecans - chopped
-
bed of lettuce or croissants for serving