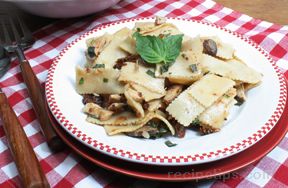 Directions
Heat olive oil and butter in large skillet over medium heat.
Add mushrooms, sauté for 5 minutes.
Add shallots and sauté another 3 minutes.
Add chicken, tomatoes and milk. Cook for 5 minutes, stirring occasionally.
Cook pasta according to package directions.
In large serving bowl, toss pasta, sauce, cheese, basil and salt. Serve immediately with extra cheese for garnish.
Prep Time: 20 minutes
Cook Time: 10 minutes
Container: Large skillet, stock pot
Servings: 6


Ingredients
-
1 tablespoon olive oil
-
3 shallots - chopped
-
2 boneless, skinless, chicken breasts - grilled and sliced into bite size pieces
-
1/2 cup sun-dried tomatoes - packed in oil, drained and chopped
-
8 ounces baby bella mushrooms - sliced
-
1/2 cup milk
-
8 ounces short noodle pasta such as penne or macaroni
-
1 tablespoon unsalted butter
-
1/2 cup Romano cheese - more for garnish
-
6 basil leaves - fresh and chopped
-
1/2 teaspoon salt