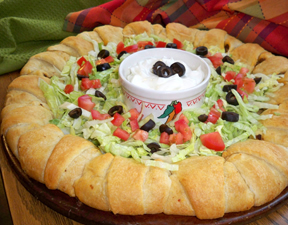 Directions
Brown hamburger. Drain. Add taco seasoning to taste. Melt 1 cup shredded cheese in the meat mixture.
Open packages of crescent rolls, lay them around the baking stone with the wide ends (end opposite from the points) along the outer edge of the round baking stone and the narrow points meeting in the center.
Place all 16 crescent rolls on the baking stone. When they are all on the stone will be completely covered.
Put a spoonful of meat mixture on each crescent roll. Roll crescent rolls back up (with meat mixture inside).
As you get a crescent rolled up, place it on the outer edge of the baking stone. Place all of the crescents on the baking stone. You may have to squeeze them together a little to get them to all fit.
Bake at 350 until rolls are browned.
Add all your favorite taco fixings: lettuce, cheese, tomatoes, onion, black olives, sour cream, taco sauce.
Prep Time: 30 minutes
Cook Time: 15 minutes
Container: pampered chef large round baking stone
Servings: 8


Ingredients
-
1 pound ground beef
-
taco seasoning to taste
-
1 cup Cheddar cheese - shredded
-
2 packages Pillsbury Crescent Rolls