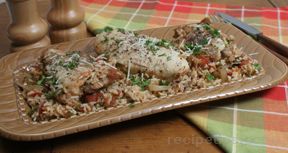 Directions
Preheat oven to 400°F.
In a large bowl, combine the rice, tomatoes, broth, orange juice, parsley, onion, garlic, cumin, cinnamon, 1/2 teaspoon of salt, 1/2 teaspoon of pepper and the cayenne pepper. Mix together and pour into the baking dish.
Trim the fat from the chicken pieces. The skin can be left on or removed.
Season the chicken with salt and pepper.
Lay the chicken down into the rice mixture.
Cover the dish tightly with tin foil.
Bake until the chicken is cooked through.
Note* It takes approximately 35-40 minutes for boneless, skinless chicken and approximately 1 hour for bone in chicken pieces.
Remove from the oven, allow to stand for 5 minutes.
Spoon rice and chicken into large serving bowls.
Sprinkle with parmesean cheese and additional parsley if desired.
Prep Time: 15 minutes
Cook Time: 1 hour
Container: 9x13 baking dish, large mixing bowl
Servings: 4


Ingredients
-
1 cup brown rice long grain
-
14 1/2 ounces tomatoes - Italian style, diced and undrained
-
1 cup chicken broth
-
1/2 cup orange juice
-
1 cup parsley - curly or flat leaf, rough chopped, more for garnish if desired
-
1 onion - sliced thin
-
1 clove garlic - chopped
-
1/2 teaspoon ground cumin
-
1/4 teaspoon cinnamon
-
1/2 teaspoon salt and pepper - more to season chicken to taste
-
1/4 teaspoon cayenne pepper
-
4 pieces chicken - your choice
-
parmesan cheese - shredded for garnish