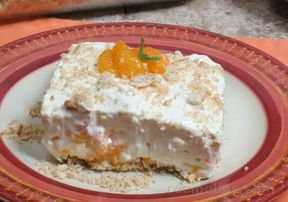 Directions
Mix cracker crumbs, butter or margarine and sugar together in a medium mixing bowl.
Reserve 1/4 cup for the topping. Spread the rest in a 9x13 pan and pat it down into the bottom and slightly up the sides.
In a large bowl, mix together the whipped topping, sweetened condensed milk, orange juice and drained oranges.
Spoon this over the crust.
Sprinkle with the reserved crumbs on the top.
Garnish with slices of mandarine orange and mint leaves if desired.
Prep Time: 15 minutes
Cook Time: 0 minutes
Container: 9x13 inch pan, large mixing bowl, medium mixing bowl
Servings: 15


Ingredients
-
2 sleeves of round butter flavored crackers- crushed
-
1/4 cup butter or margarine - melted
-
1/4 cup sugar
-
9 ounces non-dairy whipped cream - thawed
-
1 can sweetened condensed milk
-
6 ounces orange juice frozen concentrate - thawed
-
22 ounces mandarin oranges - drained plus some extra for garnish if desired
-
1 sprig mint leaves - for garnish if desired