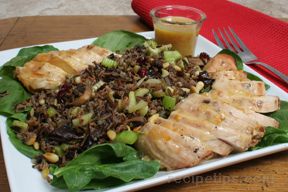 Directions
Bring orange juice, shallot, vinegar and sugar to a boil. Stir to dissolve the rugar, reduce heat and simmer for approximately 15 minutes or until the sauce reduces to 1/3 cup. The sauce will get nice and thick.
Remove the sauce from the heat, whisk in 2 tablespoons of butter, put back on the heat and whisk in the remaining 4 tablespoons of butter one tablespoon at a time.
Stir in orange marmalade and season with salt, pepper and nutmeg. Keep warm on low heat.
Meanwhile, season chicken breasts with salt and pepper.
Heat grill to medium and grill the breasts until nicely browned on the outside and no longer pink in the center, approximately 7 minutes per side.
Transfer to a serving platter, top with orange sauce and serve with your favorite side dish.
Prep Time: 15 minutes
Cook Time: 20 minutes
Container: small saucepan, grill
Servings: 4


Ingredients
-
1 cup orange juice
-
1 shallot - minced
-
5 teaspoons white wine vinegar
-
1 tablespoon brown sugar
-
1 tablespoon orange marmalade
-
1/2 teaspoon salt and pepper
-
1/4 teaspoon nutmeg
-
6 tablespoons unsalted butter - divided
-
4 chicken breasts - boneless, skinless