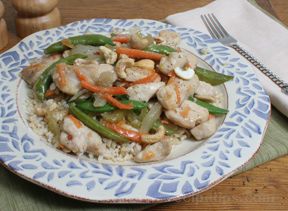 Directions
Mix 1 teaspoon of the cornstarch with broth; set aside.
Place chicken pieces in medium bowl. Add the remaining 3 teaspoons (1 tablespoon) cornstarch, 1 tablespoon soy sauce, and mix to combine; set aside.
Heat wok or skillet with 2 tablespoons oil. Add chicken mixture and stir until opaque (about 3 minutes). Remove to plate.
Add remaining 2 tablespoons oil to wok or skillet. Stir fry celery, carrots, onion, and garlic for 2 minutes. Add water; cover and cook 2-3 more minutes, just until vegetables are crisp tender.
Return chicken to wok. Stir broth mixture and add it to wok. Stir until thickened, about 1 minute.
Add red pepper flakes, snow peas, and most of the cashews. Heat through.
Serve over hot rice. Use the remaining cashews for garnish.
Prep Time: 20 minutes
Cook Time: 10 minutes
Container: large wok or skillet
Servings: 6
Serving Size: 1 cup


Ingredients
-
4 teaspoons cornstarch (1 tablespoon plus one teaspoon)
-
1/2 cup chicken broth
-
1 tablespoon soy sauce
-
1 pound boneless, skinless, chicken breasts - cut into bite sized pieces
-
4 tablespoons peanut oil
-
2 stalks celery - thinly sliced
-
8 ounces package snow peas
-
1 carrot - shredded or thinly sliced
-
1 onion - cut in half, then sliced thin
-
2 cloves garlic - minced
-
2 tablespoons water
-
1/2 teaspoon red pepper flakes
-
1/2 cup cashews