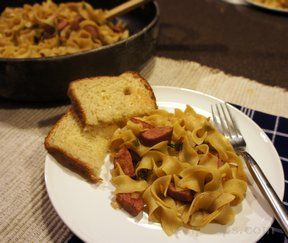 Directions
Cook pasta according to package directions.

Over medium heat, heat olive oil in large skillet. Brown sausage, onion and garlic for 3-5 minutes.

Add red pepper and cook for 5 more minutes.

Drain pasta and pour pasta into skillet with cilantro or basil and black pepper. Stir to combine and serve.
Prep Time: 10 minutes
Cook Time: 15 minutes
Servings: 8
Serving Size: 1 cup


Ingredients
-
8 ounces pasta or egg noodles
-
1/4 cup olive oil
-
1 pound kielbasa sausage, cut into chunks
-
1 red onion, chopped
-
2 cloves garlic, minced
-
1 red or green pepper, chopped
-
2 tablespoons cilantro or basil, chopped
-
1/4 teaspoon black pepper