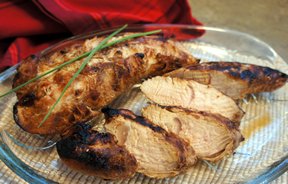 Directions
Rub turkey with garlic, basil and black pepper. Combine oil, soy sauce, brown sugar and lemon juice. Place turkey in plastic bag. Pour oil mixture over turkey and seal. Marinate in refrigerator for 4-6 hours or overnight.

Preheat grill to medium heat. Grill for 30 minutes until juices run clear.

Let stand 10 minutes.

Slice and serve.
Prep Time: 10 minutes
Cook Time: 30 minutes
Servings: 6


Ingredients
-
3 pounds turkey breast roast or turkey tenderloins
-
2 cloves garlic, minced
-
2 tablespoons basil, finely chopped
-
1/4 teaspoon black pepper
-
1/4 cup oil
-
1/4 cup soy sauce
-
1 tablespoon brown sugar
-
2 tablespoons lemon juice