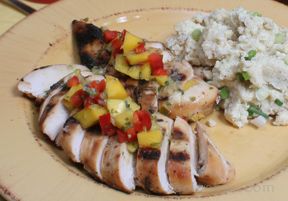 Directions
Salsa - combine all ingredients and season with salt and pepper. Cover and refrigerate for at least 2 hours.
Chicken marinade - Combine orange juice, limeade, salt, pepper in plastic bag. Add chicken. Seal bag and turn bag to combine ingredients and cover chicken. Marinate in refrigerator at least 2 hours.
Heat grill to medium. Remove chicken from marinade and grill until brown, about 5-7 minutes each side, depending on thickness.
Top with mango salsa and serve.
Prep Time: 20 minutes
Cook Time: 15 minutes
Container: grill, medium bowl, large freezer bag
Servings: 6


Ingredients
-
SALSA
-
2 mangoes - peeled and diced
-
1 red pepper - seeded and diced
-
1/2 cup orange juice
-
2 limes - juiced
-
1/4 cup fresh basil - minced or 2 Tblsp. jarred basil
-
1 jalapeño - seeded and chopped fine
-
salt and pepper - to taste
-
CHICKEN MARINADE
-
1/2 cup orange juice
-
2 tablespoons frozen limeade, thawed
-
salt and pepper
-
6 boneless, skinless, chicken breasts