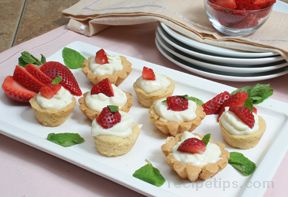 Directions
In small mixing bowl, beat cream cheese until smooth. Beat in milk, lemon juice, vanilla and lemon zest.
Cover and refrigerate 8 hours or overnight.
In another mixing bowl, beat butter, flour, confectioners sugar, and cornstarch until smooth.
Roll into 1" balls.
Place in greased mini muffin tins. Using floured fingers, press into bottom and up sides of pan. Prick with fork.
Bake at 325° for 20-25 minutes or until golden brown.
In last few mintues of baking, if pastry is puffed in center, take small spoon and gently press down so you have an indentation for filling.
When finished baking, immediately run a knife around each tart to loosen.
Cool completely.
Remove from pans.
Pipe or spoon about 1 tablespoon cheese filling into each tart.
Just before serving, garnish with fruit and mint leaf.
Refrigerate leftovers.
Note: Tarts are fragile so be gentle when lifting out of pans.
Prep Time: 20 minutes
Cook Time: 20 minutes
Container: small tart tins, 2 medium mixing bowls
Servings: 3


Ingredients
-
1 package cream cheese (8 oz.) - softened
-
1 cup sweetened condensed milk
-
1/3 cup lemon juice
-
1 teaspoon vanilla
-
1/2 lemon - zested
-
1 cup butter (2 sticks) - softened
-
1 1/2 cups flour
-
1/2 cup confectioners' sugar
-
1 tablespoon cornstarch
-
fresh strawberries or raspberries and mint leaves for garnish