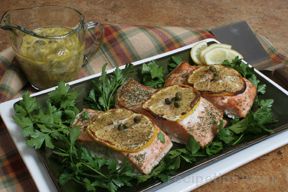 Directions
Brush the gas or charcoal grill grates with oil to prevent salmon from sticking.
Place rack approximately 4" from heat source. Preheat grill (the fire should be very hot).
SAUCE: In a bowl, mix all of the sauce ingredients together. Adjust seasonings to your liking.
Just before serving, add in the parsley.
SALMON: Rub a thin coat of oil on salmon to prevent sticking.
Spinkle salmon with dill and add a slice of lemon to the top.
Grill salmon, flesh side down, for 5 minutes. Cover the salmon with foil after the five minutes and then continue to grill for 2 to 3 additional minutes.
To check for doneness, cut into the center with a sharp knife. If salmon appears flakey, it is done.
Remove the salmon from the grill and onto a serving platter.
Pour the gribiche sauce over salmon or serve it on the side. Serve immediately.
Prep Time: 15 minutes
Cook Time: 20 minutes
Container: grill, medium mixing bowl
Servings: 4


Ingredients
-
SALMON:
-
4 salmon fillets
-
2 tablespoons olive oil
-
2 teaspoons dill - chopped
-
SAUCE:
-
1/4 teaspoon salt
-
1 tablespoon Dijon mustard
-
1 tablespoon red wine vinegar
-
3 tablespoons olive oil
-
1 tablespoon capers
-
2 sweet pickles - finely chopped
-
1 egg - hard boiled and finely chopped
-
black pepper - fresh ground to taste
-
1 tablespoon parsley - fresh and chopped