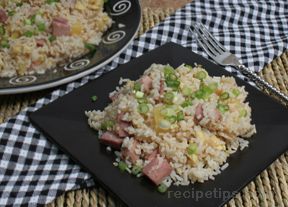 Directions
In small skillet, heat butter or margarine over medium-high heat.
Whisk eggs in small bowl. Pour into pan, and scramble until soft cooked.
Remove from heat, set aside.
In large skillet, heat 2 tablespoons olive oil or vegetable oil. Over medium-high heat add onion, ham and rice.
Stir fry 5-10 minutes until rice is crisped brown.
Add garlic, soy sauce and teriyaki sauce. Continue stirring another 2-3 minutes.
Add in green onions and pineapple, salt and pepper to taste, and scrambled eggs. Heat through, stirring to combine.
Serve hot.
Note: you can also use leftover chicken or turkey.
Prep Time: 15 minutes
Cook Time: 10 minutes
Container: large skillet or wok, small fry pan, small bowl
Servings: 6
Serving Size: 1 cup


Ingredients
-
2 eggs
-
1 tablespoon butter or margarine
-
1/4 cup soy sauce
-
1 tablespoon teriyaki sauce
-
salt and pepper - to taste
-
1/2 onion - chopped
-
1 1/2 cups ham - cooked and diced
-
2 green onions - chopped
-
3 cups rice - cooked
-
1 can pineapple tidbits (8 oz.)
-
2 teaspoons garlic or 2 cloves garlic, chopped