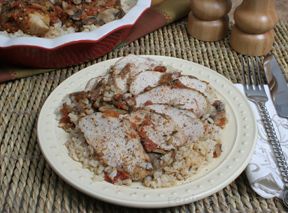 Directions
Preheat grill to medium (or bake in oven at 375°).
Place one chicken breast on 10"x10" piece of heavy aluminum foil.
Brush each breast with olive oil, season with salt and pepper.
Heat 1 tablespoon olive oil in skillet.
Saute shallot and garlic until just tender, 2-3 minutes.
Add mushrooms and sauté about 10 more minutes.
Add rosemary, thyme, and tomatoes and saute over medium heat, stirring occasionally for about 10 more minutes.
Remove from heat, stir in broth (or wine) and lemon zest.
Taste to check seasoning.
Divide sauce, spooning over each chicken breast on foil.
Fold foil over, or bring up sides and crimp edges tightly to seal.
Place on grill and cook until chicken is cooked through, about 15-20 minutes or place in oven and bake about 20 minutes.
Serve hot. Great with hot cooked brown rice.
Prep Time: 30 minutes
Cook Time: 45 minutes
Container: 4 squares of foil, skillet
Servings: 1


Ingredients
-
4 boneless, skinless, chicken breasts
-
salt and pepper - to taste
-
olive oil - for brushing on chicken
-
1 shallot - minced
-
2 garlic cloves - minced
-
8 ounces baby bella mushrooms or white mushrooms - sliced
-
2 teaspoons rosemary - fresh, chopped
-
1/2 teaspoon thyme - dried
-
3 tomatoes - chopped
-
1/2 cup chicken broth or dry white wine
-
zest of 1 lemon