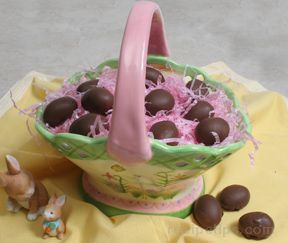 Directions
In a medium mixing bowl, add the mashed potatoes, coconut, salt, and vanilla. Mix until well blended.
Gradually add in the powdered sugar and mix well until all the sugar has been added. Cover the mixture and place in the refrigerator overnight or for at least 3 hours.
Remove the chilled mixture from the refrigerator and begin shaping the eggs. Use a rounded teaspoon of the coconut mixture, roll around in the palm of your hand to make a ball and then roll back and forth to create the egg shape. Use your fingers to do any final shaping that is necessary. Place the egg on a cookie sheet lined with wax paper or parchment paper.
Roll the eggs until all the mixture has been shaped. Place back in the refrigerator for 2 hours before dipping in chocolate.
While the eggs are chilling, melt the semi-sweet chocolate in the microwave. Microwave it in 30 second intervals, stirring after each interval so the chocolate does not overheat. When the chocolate is almost all melted, stir the vegetable oil into it. Heat another 20 seconds and stir until all the vegetable oil is mixed in and the chocolate is silky smooth.
Remove the eggs from the refrigerator and begin dipping in the chocolate. Place an egg in the chocolate, roll around until it is evenly coated and then lift out with a fork.
Tap the fork on the side of the bowl to remove some of the chocolate. Then scrape the excess chocolate off the bottom of the fork on the edge of the bowl.
Use a toothpick to help slide the egg off the fork and on to the lined cookie sheet. Coat all of the eggs in this manner.
Once all the eggs are coated, allow the chocolate to harden before serving. To speed this process along, place the chocolate covered eggs in the refrigerator.
Prep Time: 3 hours
Servings: 36
Serving Size: 1 piece


Ingredients
-
6 tablespoons mashed potatoes, do not salt
-
1 cup shredded coconut
-
1/4 teaspoon salt
-
1/2 teaspoon vanilla
-
1 3/4 cups powdered sugar
-
4 ounces semi-sweet chocolate
-
1/2 tablespoon vegetable oil