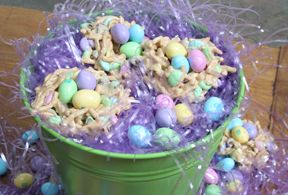 Directions
Chop the Plain M&M's into smaller pieces using a large knife. Set the chopped candies aside to be added later.
Add the marshmallow creme, peanut butter, and melted butter to a mixing bowl and beat until evenly mixed.
Add the chow mein noodles and the chopped M&M's to the creamed mixture and stir in by hand. Stir mixture until the chow mein noodles and M&M's are coated evenly.
Using a heaping tablespoon of the mixture, drop a mound onto a lightly buttered cookie sheet. With buttered fingers, form each mound into a rounded shape and make an indent in the middle to make them look like little nests.
Add Peanut M&M's to each nest to make them look like they are filled with eggs. Set them aside to allow them to firm up before serving.
Prep Time: 2 hours
Servings: 15
Serving Size: 1


Ingredients
-
7 ounces marshmallow creme
-
1/4 cup peanut butter , creamy
-
1 3/4 tablespoons butter , melted
-
2 1/2 cups chow mein noodles
-
1 cup Plain M&M candies, chopped
-
1 cup Peanut M&M candies