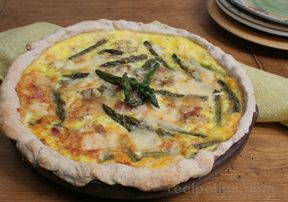 Directions
Preheat oven to 425°.
Into unbaked pie shell, place chicken, ham, asparagus, and cheese. Lightly toss together with hands.
Whisk milk, eggs, and seasonings together.
Pour over mixture in pie shell.
Bake for 15 minutes at 425°.
Reduce heat to 300° and bake another 40-45 minutes or until knife inserted in middle comes out clean.
Serve with fruit salad.
Prep Time: 20 minutes
Cook Time: 1 hour
Container: medium bowl, 8 or 9
Servings: 8


Ingredients
-
1 unbaked 8
-
1 cup chicken - cooked and finely diced
-
1/2 cup ham - diced
-
2 cups asparagus - cooked and cut into 1/2
-
1 cup Swiss cheese - shredded
-
1/2 cup fontina cheese - shredded
-
6 eggs
-
1 cup milk
-
1 pinch nutmeg
-
salt and pepper - to taste
-
asparagus spears for garnish, optional