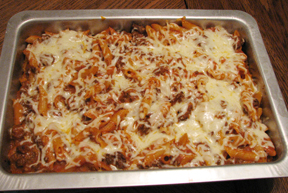 Directions
Preheat oven to 350 degrees.
Brown hamburger with onion and garlic in large skillet; drain grease.
Cook noodles according to package directions.
Drain noodles, add to hamburger. Add soup, spaghetti sauce, 2 cups cheese and seasonings. Mix together.
Pour into cake pan. Spread last 2 cups of cheese on top.
Bake for 20 minutes or until cheese is melted.
Prep Time: 25 minutes
Cook Time: 40 minutes
Servings: 8


Ingredients
-
1 1/2 pounds ground beef
-
26 ounces jar spaghetti sauce
-
1 teaspoon pepper
-
1 teaspoon Italian seasoning
-
1 can cheddar cheese soup
-
1 package mostaccioli noodles
-
4 cups mozzarella cheese - divided
-
1 onion
-
2 cloves garlic