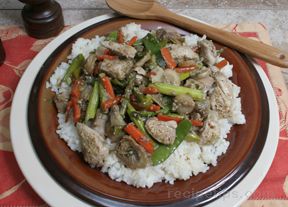 Directions
Preheat skillet or wok to med-high.
Add sesame seeds to dry pan. Stir frequently, until lightly toasted.
Add 3 tablespoons olive oil.
Add chicken, cook until chicken is cooked, no longer pink, stirring often.
Add asparagus, carrots, green onions and artichokes.
Stir fry until vegetables are crisp tender.
Add pea pods and sliced water chestnuts. Stir to heat through.
Add ginger, red pepper flakes and teryaki sauce.
Season with salt and pepper.
Serve hot with hot, cooked rice.
Prep Time: 30 minutes
Cook Time: 20 minutes
Container: large skillet or wok
Servings: 4
Serving Size: 1 cup


Ingredients
-
2 tablespoons sesame seeds
-
3 tablespoons olive oil
-
2 chicken breasts - boneless, skinless, cut into bite size pieces
-
1 bunch asparagus - cut into 1
-
3 green onions - sliced
-
2 carrots - sliced into small strips
-
2 cloves garlic - chopped
-
1 can artichokes - (13.75 oz) drained, cut in half
-
1 package (small) pea pods
-
1/2 teaspoon powdered ginger
-
1 teaspoon red pepper flakes
-
3 tablespoons teriyaki sauce