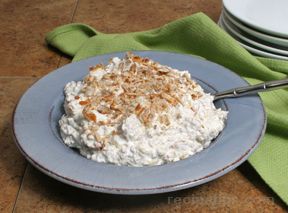 Directions
Combine the cream cheese and sugar together in a mixing bowl and beat until the sugar is well mixed into the cream cheese.
Add the whipped topping and pineapple. Beat just until they are mixed in evenly. Store in the refrigerator.
Combine the crushed pretzels, melted butter, and sugar. Stir together until thoroughly mixed..
Spread the pretzel mixture out on a small cookie sheet that has sides. Place in an oven preheated to 425 degrees F. and bake for 5 minutes. Remove and allow pretzels to cool.
Add the crushed pretzel mixture to the cream cheese mixture just before serving. Note: Mix up only the amount that you feel will be eaten because the pretzels will become soggy after a few hours of being mixed in the cream cheese mixture.
Cook Time: 5 minutes
Container: bowl
Servings: 16


Ingredients
-
8 ounces cream cheese , softened
-
1/2 cup sugar
-
8 ounces whipped topping
-
1 can pineapple , 20 oz. crushed (well drained)
-
2 cups crushed pretzels
-
1/2 cup butter or margarine , melted
-
1/2 cup sugar