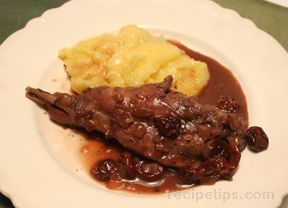 Directions
Soak dried fruit in wine, set aside.
In a large heavy skillet, heat oil or butter. Pat rabbit pieces dry and salt and pepper lightly. Brown rabbit, then remove from pan.
Add another tablespoon of butter or oil to pan if dry, then add onions and cook, stirring occasionally, for 4 - 5 minutes.
Add fruit and wine to the pan, bring to a boil, stirring to dissolve any browned bits. Add rabbit and herbs to pan. Cover and reduce heat to maintain a simmer.
Cook until rabbit is tender, 30 - 60 minutes ( Time will vary depending on age of rabbit and whether it is farm-raised or wild ). Add water if liquid gets low.
Remove finished rabbit to warmed serving dish. If sauce is the consistency you want, taste for seasoning and pour over meat. If sauce is too thin, boil rapidly to desired consistency, taste for seasoning, and pour over meat. Serve hot, with polenta, mashed potatoes or noodles.
Prep Time: 15 minutes
Cook Time: 45 minutes
Container: heavy skillet
Servings: 4


Ingredients
-
1 cup dried fruit (see suggestions, above)
-
2 cups dry wine
-
1 rabbit, cut into serving pieces, about 3 lbs.
-
1 tablespoon oil or butter, more as needed
-
1 small onion, very finely chopped
-
1 tablespoon chopped fresh herbs (tarragon, rosemary etc) or 2 teaspoons dried
-
salt and pepper