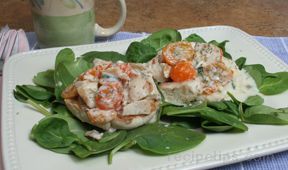 Directions
In saucepan, heat milk over med-high heat while whisking in cornstarch.
Bring to boil, stirring frequently. When it comes to a boil, reduce heat to medium and cook until sauce has thickened, about 1 more minute. Reduce heat to low.
Slice tomatoes in half.
On griddle or grill pan, heat oil over medium heat.
Season 2 to 3 chicken breasts with lemon pepper on both sides.
Place on grill pan. Cook until both sides are golden brown and middle is no longer pink (about 5-7 minutes each side, depending on thickness)
Remove from heat, cut into bite size pieces to equal about 3 cups.
Add tomatoes, diced chicken, cheese, green onion, thyme, salt, pepper, and red pepper into thickened milk. Stir until heated through.
To serve: place 2 English muffin halves open on dinner plates. Spoon chicken mixture over top. Do not plate this dish ahead of time or the muffins with become somewhat soggy: plate right before serving.
Garnish with extra tomatoes if desired.
Prep Time: 10 minutes
Cook Time: 10 minutes
Container: medium saucepan, griddle or grill pan
Servings: 4
Serving Size: 1


Ingredients
-
1 1/2 cups milk
-
1 tablespoon cornstarch
-
1 cup cherry tomatoes or golden grape tomatoes
-
3 cups chicken - cooked
-
2 tablespoons olive oil
-
1/4 cup Gorgonzola cheese
-
1/2 cup Swiss cheese - shredded
-
3 green onions - chopped
-
1/2 teaspoon thyme - dried, or 1/2 Tbsp. fresh thyme, chopped
-
1/4 teaspoon salt and fresh ground black pepper
-
1/4 teaspoon red pepper flakes - more to taste
-
4 English muffins