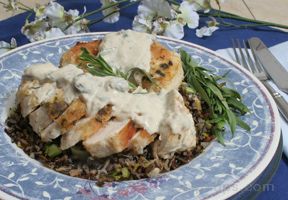 Directions
Heat olive oil and butter in skillet.
Add mushrooms and shallots. Sauté for 5-8 minutes.
Add garlic and tarragon and sauté for 1-2 more minutes.
Remove from skillet with slotted spoon.
Add 1 tablespoon vegetable oil to oil in pan already.
On waxed paper, mix together flour, tarragon, salt & pepper. Dredge breasts in flour mixture, shaking off excess.
Place chicken breasts in flavored oil in pan. Cook until golden brown and no pink in the center - about 5-7 minutes each side, depending on thickness.
Transfer chicken to platter, keep warm.
In same skillet, pour in chicken broth, stirring up any brown bits. Add half and half, continue stirring.
Add 1 tablespoon fresh tarragon, then add mushroom mixture back into skillet.
Pour in cornstarch mixture, stirring over medium heat for 2-3 minutes, until thick and bubbly. Serve over chicken breasts with wild rice along side.
Prep Time: 20 minutes
Cook Time: 20 minutes
Container: large skillet
Servings: 4


Ingredients
-
SAUCE
-
1 8 oz container sliced mushrooms - baby bella or button
-
2 tablespoons olive oil
-
2 tablespoons unsalted butter
-
2 cloves garlic - minced
-
2 shallots - chopped
-
1 tablespoon tarragon - fresh
-
salt & pepper to taste
-
1 tablespoon sherry wine vinegar
-
1 cup chicken broth
-
1 pint half-n-half
-
2 tablespoons cornstarch mixed in 1/3 cup cold water
-
CHICKEN BREASTS
-
4 chicken breasts (4-6 oz.) - boned, skinned
-
3 tablespoons flour
-
1 tablespoon tarragon - fresh, chopped
-
salt & pepper