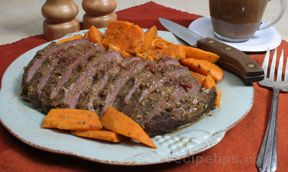 Directions
Mix broth, cornmeal, cumin, oregano, cinnamon, salt, chipotle, and garlic in bottom of slow cooker.
Trim fat off of brisket. Sprinkle with chili powder on both sides. Place in slow cooker and turn to coat.
Cover and cook on high 3 hours.
Add potatoes and cook until tender, 1-2 more hours.
Remove meat and potatoes from cooker. Skim fat from sauce. Slice meat and return with potatoes to the sauce. Cover and keep warm until ready to serve.
Prep Time: 15 minutes
Cook Time: 5 hours
Servings: 4


Ingredients
-
2 cups chicken broth
-
2 tablespoons yellow cornmeal
-
2 teaspoons ground cumin
-
2 teaspoons oregano - dried
-
1 teaspoon cinnamon
-
1 teaspoon salt
-
1 chipotle chiles - canned in adobo sauce
-
2 cloves garlic - minced
-
2 teaspoons chili powder
-
1 beef brisket (1.5-2 lb.)
-
2 sweet potatoes - large, peeled, cut into 2