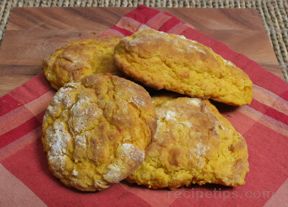 Directions
Preheat oven to 425°F.
Make sure squash is drained well, let sit on paper towel to absorb any moisture.
Sift flour, baking powder, ginger, and cinnamon into a large bowl.
Add in butter and mix with fork or pastry blender.
Stir in sugar and squash.
Stir in milk, 1 tablespoon at a time until you have soft dough. Combine all ingredients gently.
Turn dough out onto floured surface. Press dough down until it's flattened out to about 1" thick, using hands.
Using a knife or 2" diameter glass, cut out scones in triangles or circles.
Place on parchment paper or silpat on baking sheet.
Bake for 10-15 minutes or until well risen and golden brown.
Serve warm.
Prep Time: 20 minutes
Cook Time: 15 minutes
Container: large baking sheet, large mixing bowl
Servings: 4


Ingredients
-
1 1/2 cups leftover yellow squash, such as acorn or hubbard, mashed
-
2 cups flour - self-rising
-
2 tablespoons baking powder
-
1 1/2 teaspoons ground ginger
-
1/2 teaspoon cinnamon
-
4 tablespoons unsalted butter - cut up
-
2 tablespoons sugar
-
3 tablespoons milk - may need less