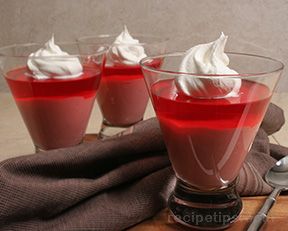 Directions
Pour the dry gelatin mix into a mixing bowl, add the boiling water, and stir for at least 2 minutes or until completely dissolved.
To 1 cup of cold water, add ice until the level on the measuring cup reaches 1 1/2 cups.
Stir the ice water into the gelatin until the ice is completely melted.
Remove 1 3/4 cups of the gelatin and set aside. Refrigerate the remaining gelatin for 30 minutes, or until slightly thickened.
Add 1 cup of the whipped topping to the chilled gelatin; then whisk it until the mixture is well blended.
Pour the mixture into 8 parfait glasses; then refrigerate for 15 minutes or until the whipped gelatin mixture is set.
Carefully pour the reserved gelatin over the creamy whipped layer.
Place the parfait cups back into the refrigerator for 3 hours or until the gelatin is very firm.
Top each serving with a dollop of whipped topping.
Prep Time: 10 minutes
Cook Time: 5 minutes
Container: parfait cups
Servings: 8


Ingredients
-
1/2 cup boiling water
-
2 (3 oz.) packages of strawberry flavored gelatin
-
ice cubes
-
1 cup cold water
-
2 cups whipped topping, divided