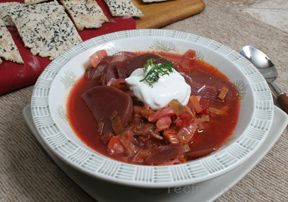 Directions
In large pot, heat oil over medium heat.
Season beef with salt and pepper and brown in oil for 5-10 minutes.
Remove with slotted spoon to plate and set aside.
Add another tablespoon olive oil in the same pot and add leeks and carrots. Sauté until softened, about 7-10 minutes, stirring occasionally.
Add the beet juice, beef, tomatoes with liquid, cabbage, water, tomato paste and 3 tablespoons fresh dill. Stir to scrape up any bits from bottom of pan.
Bring to simmer over medium heat.
Cook for about 1 hour.
Add the beets, vinegar, sugar, and salt and pepper to taste. Simmer 5 more minutes.
Ladle borscht in bowls and garnish with sour cream and dill.
Serve with warm bread or crackers.
Container: large soup pot
Serving Size: 4


Ingredients
-
15 ounces beets - sliced, drained (reserve juice) OR 5-6 fresh beets sliced
-
2 tablespoons olive oil
-
1 pound stew beef
-
3 leeks - finely sliced
-
2 carrots - large, diced
-
1 can diced tomatoes 14 1/2 oz.
-
1/2 head green cabbage, chopped
-
6 cups water
-
2 tablespoons tomato paste
-
5 tablespoons dill - fresh, divided, chopped
-
5 tablespoons red wine vinegar
-
1/4 cup brown sugar - more to taste
-
salt and pepper to taste
-
sour cream and dill for garnish