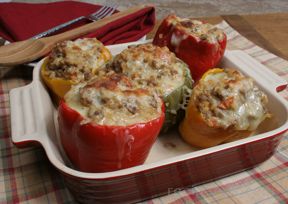 Directions
Preheat oven to 350°F
Cut top 1/3 of pepper off, seed body of pepper, being careful to keep it intact.
Heat skillet to medium.
Sauté ground beef, pork sausage, onion, garlic, 1 tsp of bouillon granules and garlic powder. Sauté until meat is cooked through. Drain off fat.
Return meat mixture to pan. Add rice, cheese, sour cream, tomatoes, green onions and teryaki sauce. Mix to combine.
Season with salt and pepper.
Mix hot water with the other 1 tsp. of bouillon granules. Pour this in bottom of baking dish.
Fill prepared peppers with meat mixture.
Place in baking dish and cover with foil.
Bake for 35 minutes. Remove foil. Spoon some of the juices over peppers. Sprinkle with shredded cheese. Place back in oven for 10 minutes or until tops are golden.
Prep Time: 30 minutes
Cook Time: 45 minutes
Container: large skillet, 9x13 baking dish
Servings: 4
Serving Size: 1 each


Ingredients
-
4 each bell peppers - large (any combination of red, green, or yellow)
-
3/4 pound ground beef
-
1/2 pound ground sausage
-
1 onion - medium, chopped
-
2 garlic cloves, minced
-
2 teaspoons beef bouillon granules
-
1 teaspoon garlic powder
-
salt and pepper to taste
-
1 cup rice - cooked
-
1/2 cup Mexican cheese (or any combination of Colby Jack, Monterey Jack and Cojita cheese)
-
1/2 cup sour cream
-
1 tomato - large, diced
-
5 green onions - chopped
-
1 tablespoon teriyaki sauce
-
1 cup water - hot
-
1/2 cup Mexican cheese - for topping