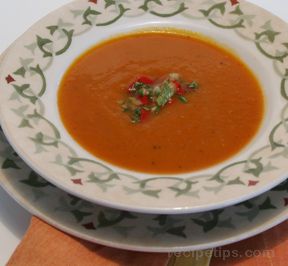 Directions
Chop onion. Heat oil or butter in saucepan and add onion, chili powder and pepper. Stir and let cook (medium heat) for about 5 minutes.
While the onion cooks, peel the squash and remove strings and seeds from cavity. Cut crosswise into slices about 1" thick. Cut the slices into 1" pieces.
Add squash, stock and water to onions. Cook until squash is very soft, 15 - 20 minutes. Pureé with an immersion blender or in batches in a blender or food processor. If soup is too thick, add water to reach desired consistency. Taste for seasoning, add salt if needed.
To serve, ladle into bowls and add 2 tablespoons salsa to the center of each bowl.
Prep Time: 15 minutes
Cook Time: 25 minutes
Container: saucepan, blender or food processer
Servings: 4
Serving Size: 1 cup


Ingredients
-
1 large onion
-
1 tablespoon oil or butter
-
1 teaspoon chili powder, or to taste
-
1/2 teaspoon black pepper, preferably freshly ground
-
1 butternut squash, about 2 lbs.
-
2 cups water
-
2 cups chicken or vegetable stock, or use all water
-
1/2 cup salsa, purchased or homemade
-
salt, as needed