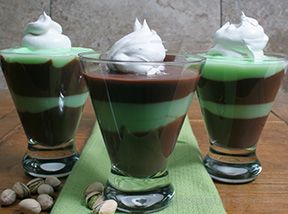 Directions
In a medium mixing bowl, whisk together 2 cups of milk with the dry chocolate pudding mix. Whisk until all clumbs are gone; approximate 2 minutes.
In another mixing bowl, repeat the same process for the pistachio pudding.
Let each of the puddings set for 3 minutes.
In parfait glasses, pour in a small amount of the chocolate pudding. Carefully place the pistachio on top of the chocolate, repeat until you have the desired amount of layers.
Top with whipped topping, if desired.
Prep Time: 5 minutes
Container: 2 mixing bowls
Servings: 8


Ingredients
-
4 cups milk - divided
-
1 pkg (4 oz. serving size) chocolate flavored pudding & pie mix
-
1 pkg (4 oz. serving size) pistachio flavored pudding & pie mix
-
1 cup thawed whipped topping