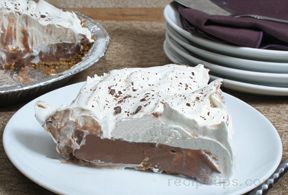 Directions
Over medium heat, whisk together the two puddings in a medium saucepan.
Add in the milk and whisk often until the pudding come to a slow boil.
Remove from the heat and add the sour cream.
Pour into the prepared graham cracker crust and place in the refrigerator to allow it to set up, approximately 3 hours.
Top with a non dairy whipped topping or whipped cream.
Sprinkle with chocolate shavings for garnish.
Store in the refrigerator.
Prep Time: 10 minutes
Cook Time: 10 minutes
Container: medium saucepan
Servings: 8


Ingredients
-
1 package chocolate pudding mix - not instant
-
1 package vanilla pudding mix - not instant
-
4 cups milk
-
1/2 cup sour cream
-
1 graham cracker pie crust - nine inch
-
1 package non-dairy whipped topping
-
chocolate shavings for garnish