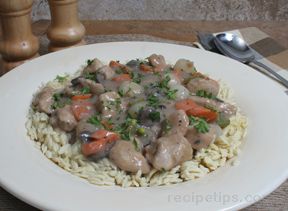 Directions
Combine flour, 2 tablespoons of lemon thyme and the seasoning salt.
Coat the chicken pieces with the mixture, shaking off any excess.
In a dutch oven or skillet, heat 1/2 cup of oil.
Add the chicken to the skillet in a single layer. Cook until browned on all sides, then remove to a plate.
To the remaining oil in a pot, add 2 tablespoons of unsalted butter, melt over medium heat.
Add the baby bella mushrooms and saute for 7-10 minutes or until tender and slightly browned.
Add the garlic and saute for 30 more seconds.
Sprinkle 3 tablespoons of leftover seasoned flour from dredging the chicken and whisk to combine with the mushrooms.
Raise the heat to medium high and while whisking, add in the chicken broth.
Keep stirring until it thickens, approximately 2-3 minutes.
Lower heat to medium low and add in the carrots, pearl onions and snap peas. Salt and pepper to taste and stir occasionally.
Add the chicken back into the dutch oven and warm it all the way through.
Serve over hot orzo pasta.
Note:If desired, red or white wine could be used in place of the chicken broth in this recipe or you could use 1 1/2 cups of wine along with 1 1/2 cups of chicken broth.
Prep Time: 20 minutes
Cook Time: 35 minutes
Container: Dutch oven or large skillet
Servings: 6


Ingredients
-
1 cup flour for dredging and also to use for the thickened agent
-
2 tablespoons lemon thyme - chopped
-
1 tablespoon seasoning salt
-
5 chicken tenders or 2 boneless skinless chicken breasts, cut into one inch pieces
-
1/2 cup vegetable oil
-
3 cups chicken broth
-
2 tablespoons unsalted butter
-
8 ounces baby bella mushrooms - sliced
-
2 cloves garlic - finely minced
-
2 carrots - peeled and cut into 1/4 inch discs
-
salt and pepper to taste
-
1 cup snap peas - cut in half
-
1 cup pearl onions - skinned
-
1 cup orzo pasta - cooked according to package directions