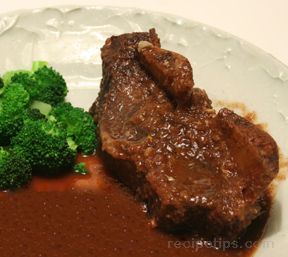 Directions
Trim off any large areas of surface fat from the ribs. Mix together salt, pepper, paprika and garlic powder (if using) and rub this mixture into the meat. If time allows, wrap the seasoned meat snugly and refrigerate for an hour or more - overnight, if possible.
Add wine, onions, garlic, tomato paste and soy sauce to the slow cooker. Stir to mix well, then snuggle the meat down into the liquid. Cover and cook on low for 8 - 10 hours, until the meat is tender.
If the sauce seems too fatty, pour it out of the cooker into a jar. Let stand a few minutes and spoon off fat as it rises to the surface. ( It's easier to remove the fat from a tall narrow container than from the wide area of the cooker.) Adding a few ice cubes can speed up this step.
Return sauce to cooker, or reheat in microwave, if necessary.
Serve hot, with some sauce spooned over meat. Pass extra sauce to add at table, as desired. This is especially good with polenta, mashed potatoes or noodles.
TIP: To keep wine on hand for cooking, get a drinkable-quality box wine; it will keep for weeks without refrigeration.
Prep Time: 15 minutes
Cook Time: 6 or more hours
Container: Slow Cooker
Servings: 4


Ingredients
-
3 pounds meaty beef short ribs
-
2 teaspoons salt
-
1 teaspoon black pepper, preferably freshly ground
-
1 teaspoon paprika
-
1 teaspoon garlic powder (optional)
-
1 cup dry red wine (see TIP)
-
1 large onion, chopped
-
4 cloves garlic, minced, or to taste
-
3 tablespoons tomato paste
-
1 tablespoon soy sauce