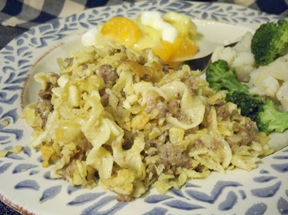 Directions
Brown the hamburger in a frying pan. Add the onion salt and pepper to the hamburger while it is frying. Drain off the grease after browning the hamburger.
While the hamburger is browning start cooking the noodles. Add about a tablespoon of salt to the cooking water before it begins boiling. Do not overcook the noodles.
When the noodles are done, drain the water and set them aside.
In the same saucepan that you boiled the noodles, add the soup, milk, butter, and Velveeta cheese. Heat over medium heat until the mixture is hot and all the cheese has melted.
Add the noodles and continue to cook until the noodles are hot. Turn down the heat a little so the mixture does not burn on the bottom while heating the noodles.
Once the noodles are hot, add the drained hamburger, stir until mixed evenly, and serve.
Note: Instead of heating thoroughly in the saucepan, this hotdish can be put in a casserole dish, topped with crushed potato chips, and then baked at 350 degrees F. for 30 minutes if preferred.
Prep Time: 15 minutes
Cook Time: 30 minutes
Container: Frying pan and saucepan
Servings: 6


Ingredients
-
2 pounds ground beef
-
1 teaspoon onion salt
-
1/2 teaspoon pepper
-
8 ounces egg noodles or elbow macaroni
-
1 can cream of mushroom soup
-
1 can milk (use the soup can)
-
1 tablespoon butter or margarine
-
8 ounces Velveeta cheese
-
potato chips - crushed (optional)