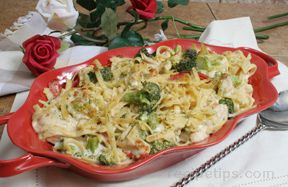 Directions
Steam broccoli florets just until tender, set aside.
Boil the pasta according to the package directions, drain.
Heat 2 tablespoons of olive oil on a griddle pan or large saute pan.
Sprinkle both sides of the chicken breasts with lemon pepper.
Saute, along with the red peper strips, over medium heat until the chicken is cooked through, 5-7 minutes.
Transfer strips and chicken to a bowl.
In a dutch oven, over medium heat, melt 2 tablespoons of butter.
Add 2 tablespoons of flour, whisking continuously, add the cream and milk. Keep whisking as it thickens.
Turn heat to medium low and add the Parmesan cheese and Monterey Jack cheese.
Stir until melted. Add the chicken strips, red pepper, broccoli and pasta.
Toss until all is coated.
Season with salt and pepper and transfer to a baking dish.
Sprinkle with 1/2 cup of grated Asiago or Parmesan cheese.
Place under the broiler on low just until golden on the top, approximately 3 minutes.
Serve hot.
Prep Time: 10 minutes
Cook Time: 25 minutes
Container: 13x9x2 baking dish
Servings: 6


Ingredients
-
1 bunch broccoli - cut into bite sized pieces
-
2 tablespoons olive oil
-
1 tablespoon lemon pepper
-
4 chicken breasts - boneless, skinless, cut into 1/2 inch strips or 1 inch cubes
-
1 red bell pepper - cored and cut into strips
-
2 tablespoons butter
-
2 tablespoons flour
-
2 cups whipping cream
-
1 cup milk
-
2 1/2 cups parmesan cheese - shredded
-
1/2 cup Monterey Jack cheese - grated
-
1/2 cup Asiago cheese - grated
-
1 pound fettuccine