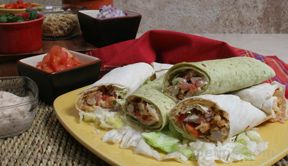 Directions
Heat oil in a skillet over medium heat.
Add onions and sauté until golden brown, 10-15 minutes.
Add the garlic, cumin, oregano, salt, pepper and sauté one more minute.
Remove from heat and pour into a food processor.
Add in the chipotle chiles, vinegar and water and pureé.
Pour 1/2 of the pureé in a non-corrosive bowl and allow to cool slightly.
Add the uncooked shrimp and allow it to marinate in the refrigerator for 1-2 hours.
For the glaze, pour the other half of the pureé into a saucepan.
Add the brown sugar, orange juice and adobo sauce.
Bring this to a boil over medium high heat.
Reduce the heat and simmer until slightly thickened, 10-15 minutes.
Remove from the heat and set aside.
Preheat a broiler or grill.
Remove the shrimp from the marinade and thread them onto skewers or lay them in a single layer on a baking sheet.
Brush with thickened glaze and place on the grill or under the broiler.
Cook until the shrimp turn pink, 2-3 minutes, while frequently brushing with glaze.
Remove from heat.
Mix the sour cream with the rest of the glaze and use as a condiment for the fajitas.
Warm the tortillas in the microwave for 20 seconds.
Top them with cheese, shrimp and desired condiments.
Serve warm.
Prep Time: 35 minutes
Cook Time: 5 minutes
Container: small saucepan, food processor, medium skillet
Servings: 6


Ingredients
-
2 tablespoons olive oil
-
1 cup onion - finely chopped
-
4 cloves garlic - chopped
-
2 teaspoons cumin
-
1 teaspoon oregano
-
salt and pepper to taste
-
2 chipotle chiles in adobo sauce
-
1/4 cup red wine vinegar
-
1 cup water
-
1 1/2 pounds shrimp - medium to large, peeled and deveined
-
1 tablespoon brown sugar
-
1/4 cup orange juice
-
2 tablespoons adobo sauce from the canned chiles
-
6 tortillas - floured, tomato flavored, spinach flavored, wheat or flavor of choice
-
2 cups mozzarella cheese - shredded or your favorite cheese
-
2 tomatoes - diced, for toppings if desired
-
3 cups lettuce - chopped, for toppings if desired
-
1/2 red onion - chopped, for toppings if desired
-
1 red pepper - thinly sliced, for toppings if desired
-
1 cup sour cream