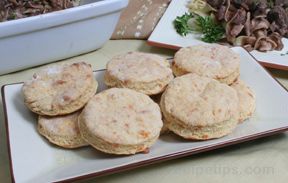 Directions
Preheat oven to 400°F.
Line a baking sheet with parchment paper or silpat.
In a large bowl stir together the flour, cornmeal, baking soda, baking powder and salt.
Mix in the butter chunks with a fork or pastry blender until the dough resembles coarse meal.
Stir in the cheese and add the buttermilk.
Stir with a fork until all is incorporated and combined.
Place on a floured surface and roll out into a 1/2 inch thick circle.
Cut dough with a biscuit cutter or a glass with a 2 inch circumference.
Place discs on the baking sheet.
Form the remaining dough into another 1/2 inch thick circle.
Cut out 4 more biscuits.
Bake until light golden brown, approximately 10-12 minutes.
Serve warm.
Prep Time: 15 minutes
Cook Time: 10 minutes
Container: baking sheet, large mixing bowl
Servings: 12


Ingredients
-
1 cup flour
-
1/2 cup cornmeal
-
1/4 teaspoon baking soda
-
1 teaspoon baking powder
-
1/2 teaspoon salt
-
4 tablespoons unsalted butter - cut into 1/2 inch cubes
-
1/2 cup Cheddar cheese or sweet pepper cheese - grated
-
1/2 cup buttermilk