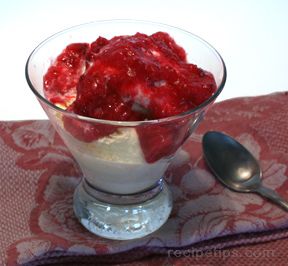 Directions
Put cranberries, salt, ginger, cinnamon, water and honey in a saucepan and cook over low heat until most of the cranberries have split open, 5 -10 minutes.
Peel oranges and cut into quarters, top to bottom. remove white core and seeds, if any. Chop coarsely, add to cranberries and mix in. Add vanilla.
Blend with an immersion blender, or transfer to blender or food processor and pulse until well chopped but not totally pureed.
Serve warm or chilled. Will keep, refrigerated, for a week.
Prep Time: 10 minutes
Cook Time: 10 minutes
Container: saucepan, blender or food processor


Ingredients
-
1 cup cranberries, fresh or frozen
-
2 cups orange pieces, about 3 medium oranges
-
3 tablespoons honey
-
2 tablespoons water
-
1/8 teaspoon ground ginger
-
1/4 teaspoon ground cinnamon
-
1 pinch salt
-
1 teaspoon vanilla extract