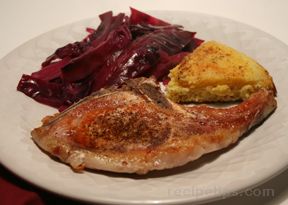 Directions
In a large skillet, heat butter and add apple and onion. Cook, stirring occasionally, about 5 minutes.
Remove any damaged outer leaves from the cabbage. Remove core and cut cabbage into thin wedges (or, if preferred, in shreds). Add to skillet, pushing apple and onion to the side so that the cabbage is in contact with the pan as much as possible. Cook 5 - 10 minutes, until some of the cabbage has browned.
Add wine (or water and vinegar), cover and simmer about 10 minutes. (This will give cabbage that has a slight crunch; if you prefer really soft cabbage, cook longer at this point.) Add salt to taste.
Remove cooked cabbage to another container and wipe out the skillet. Add oil and heat, medium-high, until hot. While pan heats, pat chops dry, salt and pepper lightly. Add to skillet and brown, 1 to 2 minutes each side.
Spoon cabbage over chops. Reduce heat and simmer, covered, until chops are done (no pink inside), about 10 minutes. Time will vary, depending on the thickness of the chops.
Serve hot, with cabbage on or along side the chops.
Prep Time: 10 minutes
Cook Time: 30 minutes
Container: large skillet
Servings: 4


Ingredients
-
1 tablespoon butter
-
1 onion, chopped
-
1 apple, chopped
-
1/2 head of red cabbage
-
1/2 cup dry wine or 1/2 cup water + 1 tablespoon vinegar
-
1 tablespoon oil
-
4 pork chops
-
salt and pepper